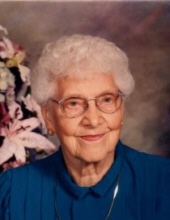 Obituary for Alma Luella Melhouse
Alma Luella Melhouse, 100, of Woodside Village, Heartland Neighborhood, in Grand Forks, ND, and a former longtime Crookston, MN resident, passed away peacefully in Woodside Village late Saturday afternoon, August 19, 2017, with family at her side.

Alma was born in Crookston, MN on November 18, 1916, one of 9 children of the union of Oscar and Amanda (Buxengard) Wermager. She grew up on the family farm near Crookston, was baptized and confirmed at Trinity Lutheran Church, and attended District #288 country school. On April 20, 1939 Alma was united in marriage to Martin Arnold Melhouse at the Trinity Lutheran Church. The couple made their first home in Aitkin, MN, before returning to Crookston in 1943. Together they raised 2 daughters, Marlys and Alana. Throughout her life Alma was employed at Crookston businesses, including Sevard's, Piggly Wiggly, and the Sweetheart Bread Store until her retirement in 1981. Sadly, Martin passed away on March 25, 1983. From 1989 thru 2004 Alma became actively involved as a Foster Grandparent with the Headstart Program of Tri-Valley. She thoroughly enjoyed her interaction with the children and they, in turn, loved being with her.

Alma was a devoted, lifelong member of Trinity Lutheran Church and WELCA. Her favorite pastime was quilting, and she was a longtime member of both the Crookston Quilters and the Northstar Quilting Guild of Grand Forks. For many years she enjoyed gathering with friends at the Golden Link Senior Citizens Center in Crookston. Alma will be very sadly missed by her family.

Family members include her 2 daughters: Marlys Melhouse of Encinitas, CA and Alana Roe of East Grand Forks, MN; her granddaughter, Maggie Roe of Burnsville, MN; 2 sisters, Esther Steffans of Fort Wayne, IN and Doris (Duane) Lien of Crookston, MN; brother, Orin "Bud" Wermager of Fort Wayne; sister-in-law, Emma (Andringa) Wermager of Fort Wayne; and many nieces, nephews, and friends. .

In addition to Martin, Alma's beloved husband of 43 years, she was preceded in death by her parents, Oscar and Amanda Wermager; 5 sisters: Gilma Leonard, Odella Olson, Edlen (Wayne) Hutchinson, Mayme (Red) Perryman, and Elsie (Larry) Wolfe; her parents-in-law, Martin and Marie Melhouse; a brother-in-law, George Melhouse; 3 sisters-in-law: Emerald Taylor, Mabel Swanson, and Adeline (Larry) Fontaine; and niece, Betty Wilkens. May God bless the memory of Alma Luella Melhouse.

A memorial service celebrating the life of Alma Melhouse will be held at 11:00 am, Friday, August 25, 2017, in the Stenshoel-Houske Funeral Home, Crookston, MN, with Chaplain Suzi Grote of Woodside Village, officiating. Visitation with the family will be for one hour prior to the service. Inurnment will take place in Oakdale Cemetery, Crookston. In lieu of flowers memorials may be given in Alma's name to the charity of choice.





Alma's Memorial Folder
www.stenshoelhouske.com
Previous Events
Service
Stenshoel-Houske Funeral Home and Cremation Service
615 South Minnesota Street
Crookston, MN 56716
Visitation for one hour prior to the service.
Cemetery Details
Location
Oakdale Cemetery
Crookston, MN 56716