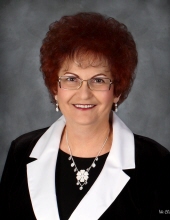 Obituary for Carol Ann Hoiseth
Carol Ann Hoiseth, 73, of Crookston, MN, passed away at her home Sunday morning, June 25, 2017, with loving family at her side. Carol was diagnosed with pancreatic cancer 16 months ago, and during every day of her brave journey since then took strength from her deep and abiding faith and the support of very caring family and friends.

Carol was born in Crookston on February 22, 1944, one of 4 children of the union of Orren and Dora (Doyea) Cassavant. She attended grade school at Dorothy, MN and Lafayette High School in Red Lake Falls, MN. On February 14, 1961 Carol was united in marriage to Robert Lloyd Hoiseth in Dorothy. Carol and Bob lived in the Crookston area their entire married lives and together raised 3 children: Brian, Craig, and Connie. She was a devoted wife, mother, grandmother, and great-grandmother; and loved her family dearly. Throughout her life she enjoyed giving her time and talents to various causes in the Crookston community.

Carol was a member of the Bible Baptist Church in Crookston, and received the Lord Jesus Christ as her own personal Saviour in 1976. She was passionate about serving as a Sunday School teacher, and sharing bible study at the Northwest Regional Corrections Center. She loved being able to pass on her Christian faith and values to others, and continued to serve the Lord faithfully until he called her to her eternal home in glory. Carol's beautiful life could best be summed up as, "Christ-first, Family and others-next, Me-last." She will be forever missed.

Carol leaves her beloved husband of 56 years, Bob; their 3 children: Brian Hoiseth of Crookston, Craig Hoiseth and his wife, Tami, of Crookston, and Connie Sherlock and her husband, Dan, of Crestwood, KY; 7 grandchildren: Heidi (Casey) Rossetti of Dallas, TX, Christopher Valley of Minneapolis, MN, Preston (Karen) Hoiseth of Bemidji, MN, Angela Valley of Crestwood, KY, Todd (Kim) Hoiseth of El Dorado, KS, Kari Hoiseth of Fort Collins, CO, and Kalin Hoiseth of Denver, CO; and 6 great-grandchildren: Cameron, Raelynn, and Madilyn Hoiseth, Makayla Gadson, Charlotte Hoiseth, and Cora Rossetti. She is also survived by 2 siblings, Susan Sylvester and James Cassavant, both of Crookston; 2 sisters-in-law, Sharon Naplin of Thief River Falls, MN, and Marian Bakken of Crookston; brother-in-law, Boyd Goosen of Thompson, ND; several nieces, nephews, and cousins; and many friends.

Carol was preceded in death by her parents, Orren and Dora Cassavant; brother, Louis Cassavant; great-granddaughter, Lily Hoiseth; parents-in-law, Lloyd and Hazel Hoiseth; brother-in-law, George Bakken, brother-in-law and sister-in-law, Jerry and Diane Hoiseth; and sisters-in-law, Kay Goosen, and Linda Hoiseth, who passed away at the age of 5.

A funeral service celebrating the life of Carol Ann Hoiseth will be held at 3:00 p.m., Friday, June 30, 2017, at the Bible Baptist Church, rural Crookston, MN, with Pastor Clayton Doss, presiding. Visitation will be for one hour prior to the service. Interment will follow in the Oakdale Cemetery, Crookston. Blessed be Carol's memory.




Carol's Memorial Folder
www.stenshoelhouske.com
Previous Events
Service
Bible Baptist Church
23928 265th Street SW
Crookston, MN 56716
Visitation for one hour prior to the funeral.
Cemetery Details
Location
Oakdale Cemetery
Crookston, MN 56716