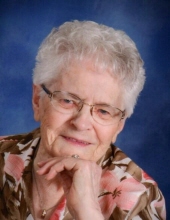 Obituary for Claire Eleanor Conneran
Claire Eleanor Conneran, 94, of Crookston, MN, passed away Friday evening, April 21, 2017, at RiverView Health in Crookston. She found great comfort in her faith and the love of her family, who were at her side throughout her last days.

Claire was born at Crookston, MN on July 4, 1922, one of seven children of the union of Adolphe and Cora (Page) Dubuque. She grew up on the family's farm, near Gentilly, was baptized and confirmed in the Catholic faith, and attended country school. For several years she remained home to care for her ailing father, and was later employed at Woolworth's in Crookston from 1942 to 1944. On October 26, 1944 Claire was united in marriage to Lester John Conneran at St. Anne's Catholic Church in Crookston. The couple lived on their farm, west of Fisher, MN, working together and raising their 6 children in a very loving home. Sadly, Lester passed away on June 27, 1963. Claire continued to manage the farming operation until retiring in 1977 and moving to Crookston.

She was a member of St. Francis Catholic Church while living at Fisher, and the Cathedral of the Immaculate Conception after her move to Crookston. Claire was a great cook , wonderful baker, and exceptional housekeeper; but most importantly, a wonderful mom, grandma, and great-grandma. Always at the center of her busy family, she was famous for hosting reunions that are still talked about to this day. Her loving heart, infectious smile, and sense of humor are but a few of the reasons why Claire's memory will be forever cherished by a family so grateful to have been part of her life.

Claire is lovingly survived by her three daughters and sons-in-law: Mary Jo and Lanny Anderson of Vadnais Heights, MN, Kathy and Robert Altringer, and Sue and Gary Menard of Crookston, MN; daughter-in-law, Linda Conneran of Grand Forks, ND, and in spirit, her son, John Conneran, and daughters, Jeanne Conneran and Paulette Hartlich and her husband, Richard. Claire also leaves 11 surviving grandchildren: Robert (Sheri) Hartlich, Becky (Eric) Carpenter, Jon Anderson, Chad (Laura) Conneran, Brian (Melanie) Altringer, Amy Menard, Sarah (Brad) Altepeter, Rachael (Cory) Oehlke, Tim (Sam) Conneran, Brittany (Patrick) Such, and Joe Conneran; and in spirit, 2 grandchildren, Tracy Lynn Altringer and Bill Hartlich. She will also be missed by her 16 great-grandchildren; sister-in-law, Cel Dubuque of Fountain Valley, CA; and many nieces, nephews, other relatives, and friends.

Claire is now reunited with her beloved husband, Lester, son John, daughters and son-in-law, Paulette and Richard, and Jeanne, and grandchildren, Tracy and Bill; and as the last living child of her family, her 4 brothers and 2 sisters: Raymond (Dorothy), Reome (Cecile), Willard (Helen), Richard, Vivian (Sarge) Morgan, and Pauline (Gordon) Lundeen. May God richly bless the memory of Claire Eleanor Conneran.

Mass of Christian Burial for Claire Conneran will be held at 2:00PM, Friday, April 28, 2017, at the Cathedral of the Immaculate Conception in Crookston with The Very Rev. Vincent Miller, presiding. Visitation with her family will be for one hour prior to the funeral. Inurnment will be in the Calvary Cemetery, Crookston.




Claire's Memorial Folder'
www.stenshoelhouske.com
Funeral Home:
Stenshoel-Houske Funeral & Cremation Service
615 South Minnesota Street
Crookston, MN
US 56716
Previous Events
Visitation
Cathedral of the Immaculate Conception
702 Summit
Crookston, MN 56716
Service
Cathedral of the Immaculate Conception
702 Summit
Crookston, MN 56716
Visitation for one hour prior to the funeral.
cemetery
Calvary Cemetery
Memorial Drive
Crookston, MN 56716