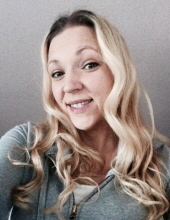 Obituary for Crystal Rose Scott
Crystal Rose Scott, 34, suddenly passed away on June 3rd, 2017.

Crystal Rose Scott was born to Wayne and Lisa (Fellman) Scott on October 11th, 1982, in Fosston, MN. Crystal was raised and received most of her schooling in Crookston, MN however she graduated from Langdon High School in 2001. During her senior year in Langdon Crystal met the father of her three children, Richard Keim. Crystal and Rich spent many years together in Langdon and Crookston creating a family.

Crystal's greatest love was for her children. She also had a great love for nature, especially animals; dogs being her very favorite. She frequently experimented in the kitchen, often using produce from her father's garden. Crystal was fun loving and full of life. She loved being with people, making friends wherever she went.

Crystal is survived by her three children, Enreque, Izabella and Aubriella Keim of Crookston, MN; father, Wayne Scott of Crookston, MN; mother, Lisa Bodnar of Langdon, ND; siblings, Amy (Joe Isum) Scott, Brent (Vanessa) Scott and Steven Scott of Crookston, MN; Dannielle (Christopher) Lill of West Fargo, ND; nieces and nephews, Adriana, Deondre, Isaiah, and Kylie Isum; Landon, Brielle, and Emmett Scott; Wesley, Avery and Winston Lill; and other relatives and friends.

She is preceded in death by grandparents: Alvin and Jackie Scott, Andrew Fellman and Bonnie-Lee Johnson; Aunt, Kathy Hedlund; Uncles, Dennis Scott and Daniel Fellman and boyfriend Noel Schmieg.

We will always carry your memory in our hearts.

Funeral Service will be held at Stenshoel-Houske funeral home in Crookston, MN on Thursday June 8th at 6:00 p.m. with a family visitation at 4:00 p.m. and public visitation at 5:00 p.m.