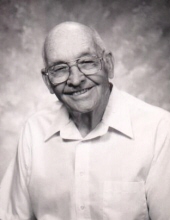 Obituary for Donald George Peterson
Donald George Peterson, 94, of Crookston, MN, passed away Sunday morning, on September 3, 2017, at the Villa St. Vincent, in Crookston, MN.

Don was born November 15, 1922 to Oscar and Viola (O'Neill) Peterson in Sioux City, Iowa. He attended Silver Lake High School through the 8th grade before moving to Bemidji in 1929. There he attended Bemidji High School were he played football for 3 years and was the team captain his senior year, graduating in 1942. Following graduation Don would attend Bemidji State University for one year before being drafted to serve in the United States Navy. Don served his country from July 20, 1943 to February 25, 1946, and was a 3rd Class Fire Controlman. Don served on the USS Honolulu, which had been struck by three torpedoes and one kamikaze plane during WWII. Upon his return from his service in the Navy, Don continued his education at Bemidji State University where he was a member of the football team for four years and was named team captain his junior year, while also working as a boat builder, and later graduating with his degree in teaching. It was during this time he was united in marriage to the love of his life, Patricia (Wallgren) on July 30, 1949, in St. Paul, MN. The couple would move to St. Paul in 1950 where he would work as a carpenter building custom homes until moving to Strandquist, MN, in the fall of 1951. There he would teach shop, phy Ed, science, and coach football at the Strandquist High School. While having their home in Strandquist Don and Patricia had their first of three sons Craig in 1951. In the fall of 1953 Don and Patricia moved to Crookston, MN where the couple was blessed with two more boys, Todd in 1954, and Aaron in 1961. In Crookston Don spent 32 years as a teacher for the Crookston High School, teaching many different classes, which included, Jr. High shop, machine shop, welding, small engines, automotives, and was also the assistant basketball coach. During the summers he would stay busy by continuing his work on building custom homes. In 1985 Donald would retire from teaching but his passion for carpentry would remain until about 1995.

Don was the president of the Industrial Arts Club for Northwest, MN and also was president twice for the "Valley Wood Carvers". He was the Grand Exalted Ruler of the Elks Lodge #342 from 1974-1975 and was also named Elk of the year in 1984. Don was also a member of the Crookston American Legion for 63 years. Some of the many hobbies and interests Don enjoyed were, reciting poetry, hunting, fishing, and golfing. He also enjoyed his antique 1921 Model T and 1930 Model A, which he used in many parades and on special occasions. Don was an amazing carver and some of his talents can be seen throughout the town as he carved the "Welcome to Crookston" signs, as well the Minokwa & Dental Health Center signs.

Don is survived by his son Aaron (Kim) Peterson, of Bemidji, MN; Daughter-In-Law, Shirley Peterson, of Moorhead, MN; 6 Grandchildren, Kristin, Nick, Heather, Dustin, Beau, and Raielle; as well as 9 Great-Grandchildren, Katelyn, Mitchell, Sylvia, Seth, Marlee, Austin, Mckenzie, Dawson, and Mikhal. He is preceded in death by his parents, Oscar and Viola; his wife, Patricia; sons, Craig and Todd; and Great-Grandchildren, Hanah and Kami Jo.

A funeral service will be held to celebrate Donald's life on September 8, 2017, at St. Paul's Lutheran Church in Crookston, MN, at 10:00am, with burial to follow at 12:00PM at Oakdale Cemetery in Crookston, MN. Visitation will be held the night before, September 7, 2017, at St. Paul's Lutheran Church in Crookston, MN, from 5:00-7:00PM, with prayer service to follow at 7:00PM.




Donald's Memorial Folder