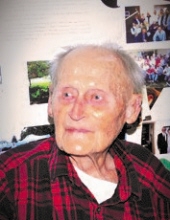 Obituary for Donald Daniel Jagol
Donald Daniel Jagol, 95, of Crookston, MN, passed away Tuesday morning, June 20, 2017, at Fair Meadow Nursing Home in Fertile, MN.

Don was born Sept. 21, 1921 near Grassy Butte in western North Dakota, to Carl and Thelma (Kostenko) Jagol, immigrants from Kiev, Ukraine. His siblings were Alec, Mary Lakedon Haugen, Nellie Biesiot, Rose Gaber, George, John, Steve, Amy Andersen, Anton, Peter and Matt. He attended the Little Knife Butte School near the family farm. In 1934, because of the depression and severe drought, the family moved to Minnesota. They lived in Wylie and Dorothy. Don was confirmed at the Black River Church near Red Lake Falls where he also worked for farmers in that area including Steigers, Hallstroms and Molines. He enrolled in the Civilian Conservation Corps, Cutfoot Sioux Camp F-14/Company 707 and worked in the power plant there, forestry, and building roads. Don also served in the Army from 1942-1945 and was stationed in Australia, New Guinea and the Philippines. While he was in the service, his brothers John and Steve, were killed in World War II and his family relocated to Fertile. On June 4, 1945, Don Jagol and Frances "Betty" Erickson of Hawley were married on the family farm east of Fertile. They were married for 61 years. They made their home in Crookston were they so enjoyed their Sampson Street neighbors and life-long community friends. Betty was a bookkeeper for Bridgeman Creamery for 30 years and Don worked for the Minnesota Department of Transportation for 36 years as a heavy equipment operator.

They were long-time members of Trinity Lutheran Church, where they volunteered in various service activities. They enjoyed fishing and after retirement spent many summers at their trailer home at Spring Steel Island, Warroad. Don also enjoyed fishing trips to Canada and Alaska. He liked to hunt and hunted deer through the 2015 season (with a bit of help from his nephews the last couple years). In addition to Betty, Don's other true love was working in the woods. He loved to cut, split, stack and burn wood. Don and Betty did not have children of their own, but were godparents to many nieces and nephews and had special relationships with almost all of their 30-plus nieces and nephews, continuing down to the next generation of great-nieces and nephews, and also children in their neighborhood and church family.

Don is survived by his sister-in-law, Inez Jagol; along with many nieces and nephews, as well as great nieces, and great nephews. He was preceded in death by his wife, Frances; parents, Carl and Thelma; brothers, Alec, George, Peter, Steve, John, Anton, and Matt; and his sisters, Nellie, Mary, Rose, and Amy.

A funeral service for Donald Daniel Jagol will be held at 11:00AM, Saturday, June 24, 2017, at Trinity Lutheran Church in Crookston, MN, with Pastor Isaacscon presiding. Visitation with the family will be for two hours prior to the service. Burial will be held on Tuesday, June 27, 2017 at Fort Snelling National Cemetery, in Minneapolis, MN, at 12:30PM.




Donald 's Memorial Folder
Previous Events
Visitation
Trinity Lutheran Church
205 South Broadway
Crookston, MN 56716
Service
Trinity Lutheran Church
205 South Broadway
Crookston, MN 56716
cemetery
Ft. Snelling National Cemetery
7601 34th Avenue South
Minneapolis, MN 55450