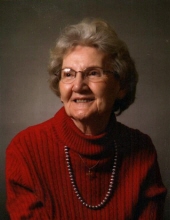 Obituary for Doreen Mary Grove
Doreen Mary Grove, 90, of Crookston, MN, passed away peacefully Wednesday afternoon, August 16, 2017, in the Villa St. Vincent in Crookston, with loving family members at her side. She had been a resident of the Villa for the past 5 years.

Doreen was born in Kent, England on March 9, 1927, the daughter of William and Lillian (Waghorn) Collins. Lillian later married Jack Skinner, who became Doreen's step-father until his passing. Doreen enjoyed a very close and loving relationship with her mother, during a very arduous time in the history of England. With the start of WWII, and the beginning of the almost daily bombings, all local schoolchildren were evacuated to London, leaving their parents behind. As Doreen was tearfully taken away she didn't know if she would ever see her mother again. Thankfully they were reunited a few years later. While she was in London, Doreen met a young girl named Mary, who would become a lifelong friend. Even after Mary's death, her own daughter, Jill, continued the friendship which carries on to this day with Doreen's children. As a young woman, Doreen began working for a lawyer in Sherborne, England. She soon met a young American serviceman by the name of Clifford Raymond Grove who was stationed nearby. Their love blossomed, and Doreen and Cliff were united in marriage at Sherborne on July 18, 1945. Their 58 year marriage would be blessed by the births of 6 children: Shirley, Suzanne, Wayne, Jeff, Steve, and Denise. Cliff returned home after his honorable discharge from the U.S. Army Medical Corps in December of 1945. By regulation Doreen had to wait 6 months before she was able to join him. The couple settled in Detroit, MI where Cliff was schooled to be a metal fabricator. In 1949 they moved to Climax and then in 1952 to Oklee, MN, where he farmed and was employed at Nadeu Plumbing and Heating. Doreen very much enjoyed life near Oklee and the animals they had on their farm. In 1959 the family moved to Fisher, MN and Cliff was employed by Northern Plumbing and Heating in Crookston. In 1961 came a move to Crookston, which would become home for them to the present time. Cliff worked for Associated Plumbing and Heating until achieving his lifelong dream. The year 1978 marked the founding of Grove Heating and Air conditioning, with Cliff proudly joined in business by his sons, Wayne and Steve, and Doreen serving as Office Manager. They both retired at different time in the 1990's. Sadly, Cliff passed away on January 4, 2004, leaving Doreen to carry on as the head of an ever-growing family. She loved to tell them all a wonderful story of how they were descendants of royalty. It seemed that her lineage dated back to a family by the name of Roberts, who were not only a royal family, but the owners of a castle which still exists in Glasbury Park, County of Kent, England. Doreen was very proud of her English heritage and maintained an English garden throughout her life. Everyone who visited her home was welcomed by her beautiful smile and, of course, a cup of English tea. Doreen was a very accomplished knitter, and everyone in her family has gotten a knitted baby gift at one time or another. She also loved to sew, crochet, and can fruits and vegetables to share with family and friends. For over 55 years Doreen was a faithful member of St. Paul's Lutheran Church. She belonged to WELCA, taught Sunday School, and enjoyed many friendships within the Church's Quilting Club. She received special recognition from St. Paul's for being the Sunshine Person who remembered, with cards and visits, all the members residing in nursing homes. Doreen was very proud of her family and their accomplishments, and loved being mom, grandma, and great-grandma to each of them. May God richly bless Doreen's memory.

Grateful to have been a part of her life are her 6 children: Shirley and Lane Hathaway of Princeton, ID, Suzanne and Ray St. Michel, and Wayne and Toni Grove, all of Mentor, MN, Jeff and Jody Grove of Mukwonago, WI, Steve and Emily Grove of Crookston, MN, and Denise Scott-Weber of Scottsdale, AZ; 22 grandchildren; 25 great-grandchildren; a sister, Maureen Langran of Devon, England; and many nieces, nephews, other relatives, and friends. In addition to her beloved husband, Cliff, Doreen was preceded in death by her granddaughter, Jilly Ann Grove, who died on September 20, 1988; her mother, Lillian Skinner; brother, Vernon Collins; parents-in-law, Henry and Bertha Grove; and many sisters-in-law and brothers-in-law. The family would like to extend their sincere gratitude to the wonderful caregivers of Villa St. Vincent for making their Mom feel so safe and loved.

The funeral service for Doreen Mary Grove will be held at 3:00 pm, Saturday, August 19, 2017, in St. Paul's Lutheran Church in Crookston with The Rev. Bill Reck, officiating. Visitation will be at the church for one hour prior to the funeral.
Interment will follow in the Oakdale Cemetery in Crookston. Memorials may be given in Doreen's name to St. Paul's Lutheran Church Quilters Group, the Villa St. Vincent Activities Fund, or Hospice of the Red River Valley.




Doreen's Memorial Folder
www.stenshoelhoukse.com
Previous Events
Service
St. Paul's Lutheran Church
1214 University Avenue
Crookston, MN 56716
Visitation will be for one hour prior to the funeral service.
Cemetery Details
Location
Oakdale Cemetery
Crookston, MN 56716