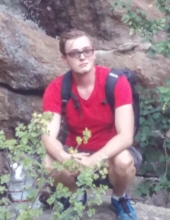 Obituary for Ethan Michael Hegge
Ethan Michael Hegge, 22, of Crookston, MN, passed away on Thursday, July 13, 2017, at his home. Ethan was born in Grand Forks, ND on January 5, 1995, the son of Kenneth Allen and Kay Ann (Henre) Hegge. He grew up at Mentor, MN and was baptized at St. Lawrence Catholic Church. He received his elementary education at the Cathedral School in Crookston and graduated from Crookston High School as a member of the Class of 2013. As a youngster Ethan enjoyed playing peewee hockey. He was an exceptional student academically, and earned a letter while participating in Knowledge Bowl, where he was additionally honored for having the funniest answers. Ethan was also a member of the Varsity Robotics team for 3 years, earning multiple letters, and serving as Captain during his Junior and Senior years. The team made the regional championship rounds during his first 2 years of competition, and in his Senior year they bested 75 other teams at the Duluth regional competition to capture 1st Place. They went on to State, and had a tremendous showing to finish in 5th Place. Ethan was a gifted musician, lettering in both saxophone and piano with the Crookston High Concert Band, and receiving star ratings for performances in both several times at regional and state music competitions. He enjoyed intellectual banter, was very witty, and had a great sense of humor. Ethan was always right there when someone needed assistance, and that certainly included helping his mother out at the old Cathedral and the Thrift Shop. He was also a fantastic cook who just happened to love physics, and all things Stephen Hawking. Ethan was a guru when it came to computer science and information technology. His parents proudly said he could fix anything that needed fixing, and was a natural born mechanic when it came to trouble-shooting anything with an engine. Ethan was continually using both sides of his brain as his thought processes constantly revolved around physics and science, spirituality and music, and he sometime simply wore himself out mentally. He will be very sadly missed and lovingly remembered.

Ethans's surviving family members include his father, Ken Hegge of Mentor, MN; his mother, Kay Hegge of Crookston, MN; two sisters, and a niece and nephew: Maj. Sara Hegge, US Army, and her husband, Grant Louiseau, of Rockport, MD, and Lydia Hegge of Crookston, and her children, Ariana Narvaez and Christopher Goodrich; a step-sister, and 2 step nieces: Rachael Lester, US Navy Ret, and her husband, Lt. David Lester, US Navy, of Round Lake Beach, IL, and their children, Myanna and Amelia Lester. Ethan also leaves his grandmother, Alice Hegge of Grand Forks, ND; Godparents, Vicki Henre of Crookston, Judith Anderson of Red Lake Falls, MN, and David Hegge of Climax, MN; several aunts and uncles: Dennis Hegge of East Grand Forks, MN, Carol and Roger Beiswenger of Fisher, MN, Betty Ann Overgaard of Fargo, ND, Paul and Gail Henre and Chuck and Vicki Henre of Crookston; and many cousins and other relatives. He was preceded in death by his grandparents: Orris Hegge, and Dean and Marlene Henre; a step-brother, Steve Hegge; and 3 uncles: Larry Overgaard, Kurt Henre, and Donald Hegge. May Ethan's memory be blessed.

A memorial service for Ethan Michael Hegge will be held at 2:00 pm, Tuesday, July 25, 2017, at the Cathedral of the Immaculate Conception in Crookston with The Very Rev. Vincent Miller, presiding. Visitation will be at the Stenshoel-Houske Funeral Home on Monday from 5-7:00 pm, with a 7:00 pm prayer service led by Deacon Dennis Bivens, and visitation also at the church for one hour prior to the memorial service.




Ethan's Memorial Folder
www.stenshoelhouske.com
Previous Events
Visitation
Stenshoel-Houske Funeral & Cremation Service
615 South Minnesota Street
Crookston, MN 56716
Prayer service at 7:00 pm.
Service
Cathedral of the Immaculate Conception
702 Summit
Crookston, MN 56716