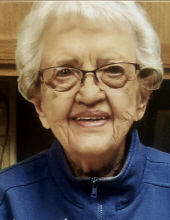 Obituary for Helen Edgekoski
Helen Edgekoski, age 92, of Crookston, MN, passed away peacefully with her loving family by her side on Saturday, May 6, 2017 at the Villa St. Vincent in Crookston, MN.

Helen was born in 1924 in Jamestown, ND, daughter of John and Hilda (Slaatenhus) Spidahl. She grew up in Jamestown and graduated from high school in 1942. She worked for Northwestern Bell Telephone Company in Jamestown, Grafton, ND, Thief River Falls, and Crookston, MN, where she retired in 1981.

After retirement she volunteered at the Polk County Museum, Crookston Library, and then the Golden Link Senior Center.

Helen is survived by her daughter, Judy (Richard) Moen of Climax, MN; son, Michael Edgekoski of Boise, ID; seven grandchildren, Schaun, Lenny, Kelli, Henry, Aaron, Bradley, and Emily; eight great-grandchildren, Eric, Brittany, Jayden, Alex, Amelia, Jonathan, Donavan, and Geneva; and three great-great-grandchildren, Tryston, Ava, and Mason; and several nieces and nephews.

She was preceded in death by her parents; two brothers, Bernard and Robert; and five sisters; Eunice, Eleanor, Evelyn, Esther, and Thelma; and other relatives and friends. May God bless Helen's memory.

There will be a memorial service at 4:00 p.m. with a visitation one hour prior to service on Wednesday, May 10, 2017 at the Stenshoel-Houske Funeral Home in Crookston, MN.





Helen's Memorial Folder'
Funeral Home:
Stenshoel-Houske Funeral & Cremation Service
615 South Minnesota Street
Crookston, MN
US 56716
Previous Events
Service
Stenshoel-Houske Funeral Home and Cremation Service
615 South Minnesota Street
Crookston, MN 56716
Visitation one hour prior to service