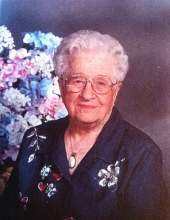 Obituary for Josephine Christine "Jo" Dewhurst
Josephine Christine Dewhurst, 103, of Crookston, MN, passed away peacefully with her family at her side on Sunday evening, July 30, 2017 in the Villa St. Vincent in Crookston. Jo, as she was affectionately known, was born on November 6, 1913 in Cummings, ND, one of four children of the union of Leland L. and Inez (Miller) Trump. She graduated from Buxton (ND) High School and went on to attend Mayville State Teachers College, earning her Bachelor's Degree in 1935. During that time Jo also taught at a country school, near Buxton, for 4 years. Following her graduation, she moved to the state of Washington, and also spent time in California. Jo was united in marriage to Elwood Dewhurst on July 23, 1937 in Raymond, WA. The couple moved to Spokane, WA in December of 1938, and during the WWII years made their home in Bremerton, WA, before returning to Spokane. In 1954 they moved to Crookston, where Elwood was employed at the American Crystal Sugar Company. Sadly, he passed away on October 30, 1997.
Jo was an active and devoted member of the First Presbyterian Church in Crookston. She was a mainstay for the church's soup and sandwich luncheons, with chicken noodle soup being her specialty. From time to time Jo was known to announce to one and all "I need your bones." This was for the soup of course, and with her marvelous sense of humor she referred to herself as "the bone lady." Jo was a longtime member of Crookston's chapter of the Order of Eastern Star. In honor of her years of dedication to Eastern Star she was presented the prestigious Emara Award, the first ever given to a member from the state of Minnesota. As an extremely talented artist, she printed and sold several of her oil paintings, and enjoyed a lifelong passion for collecting antiques. Jo's favorite pastimes included knitting, crocheting, wood-carving, caning chairs, making pine-needle baskets, and weaving. She was also an avid card player, and an excellent cook and baker.
Loving family members include her 2 daughters and son: Rita Delaney of Crookston, MN and Anne Armstrong of Spokane, WA, and Ross and Joanne Dewhurst of Austin, TX; 14 grandchildren; 25 great-grandchildren; and 16 great-great grandchildren; as well as nieces, nephews, other relatives and friends. In addition to Elwood, her beloved husband of 60 years, she was preceded in death by her sons-in-law, Bob Delaney and Dale Armstrong; parents, Leland and Inez Trump; sisters, Claire Stead and Georgia Tobiason; and her twin brother, John Trump. Jo's beautiful memory will be forever treasured by all who were part of her life.
The funeral service for Jo Dewhurst will be held at 11:00 a.m. Friday, August 4, 2017, in the First Presbyterian Church in Crookston with The Rev. Greg Isaacson, officiating. Visitation will be at the Stenshoel-Houske Funeral Home on Thursday from 5-7:00 pm, with a 7:00 pm. prayer service, and also for one hour prior to the funeral at church. A graveside service will be held at 2:30 pm, Friday, August 4, 2017, in the Sermon on the Mount section of Sunset Memorial Gardens Cemetery in Grand Forks, ND.





Josephine's Memorial Folder
www.stenshoelhouske.com
Previous Events
Visitation
Stenshoel-Houske Funeral Home and Cremation Service
615 South Minnesota Street
Crookston, MN 56716
Prayer service and memory sharing at 7:00 pm.
Service
First Presbyterian Church
510 North Broadway
Crookston, MN 56716
Visitation for one hour prior to the funeral.
Graveside
Memorial Park South Cemetery
Grand Forks, ND 58201
Cemetery Details
Location
Memorial Park South Cemetery
Grand Forks, ND 58201