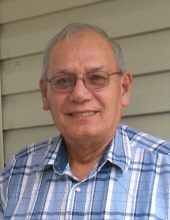 Obituary for Leo Rolland Billing Jr.
Leo Rolland Billing Jr., 70, of Fertile, MN, and a longtime Beltrami, MN resident, passed away peacefully Sunday afternoon, July 30, 2017, in the Fair Meadow Nursing Home in Fertile.
Leo was born in Grand Forks, ND on November 20, 1946, the son of Leo Billing Sr. and Mary Jane (LaDouceur) Billing. He graduated from Fertile-Beltrami High School in 1964, and spent the next year farming for Marvin Skaug. Leo entered the United States Marine Corps in 1965. During his 4 year enlistment he served 2 tours in Viet Nam. Following his honorable discharge he returned home and did construction work for 3 months with Orelin Billing in Thief River Falls. Later that year Leo began working for Cenex in Beltrami driving a fuel truck. He was united in marriage to Linda Mary Doyea on September 18, 1971 at St. Dorothy's Catholic Church in Dorothy, MN. Linda and Leo made their home in Beltrami where they raised their daughter, Lacy. Following his retirement from Cenex in 1999 Leo was employed by Erickson Oil of Fertile until 2003, and then for Danny Strem at Fertile Oil until 2006. In later years he did some farm work for Chris Mjelde and Scott Tollefson. Linda and Leo moved to Crookston in 2009 and then to Fertile in 2016 to be closer to family.

Leo was a member of the Trinity Lutheran Church in Beltrami, and the Beltrami American Legion Post. He loved the outdoors and enjoyed time spent with family and friends fishing, snowmobiling, hunting, and camping. His 3 grandsons were the apple of his eye and they will miss grandpa very much. Leo was a loving husband, father, grandpa, brother, uncle, and friend who meant the world to all who were a part of his life. May God richly bless Leo's memory.

Family members include Linda, Leo's beloved wife of 45 years; their daughter, Lacy Fredericks and her husband, Shane, and their 3 boys: Easton, Brekin, and Madden of Fertile, MN; 3 brothers and 2 sisters: John Lee, Bruce Lee, and James (Rhonda) Lee, all of Grand Forks, ND, Brenda (Dan) Johnson of East Grand Forks, MN, and Bonnie (Kenny) Wattier of Randolph, NE; a special uncle and aunt, Rusty and Joyce LaDouceur of Grand Forks; special friends, Michelle Merrill, and Danielle Adelman of New Richmond, WI; and many nieces, nephews, other relatives, and friends. Leo was preceded in death by his father, Leo Sr.; mother and stepfather, Mary and Roy Oelrich; brother, Jerry Billing; and parents-in-law, Elmer and Bernice Doyea.

A memorial service for Leo R. Billing Jr. will be held at 11:00 a.m., Thursday, August 3, 2017, at the Trinity Lutheran Church in Beltrami with The Rev. Phil Larsen, officiating. Visitation with the family will be at Trinity Lutheran Church in Beltrami on Wednesday from 5-7:00 p.m., with a 7:00 p.m. prayer service, and also for one hour prior to the funeral. Following the funeral Military Honors will be provided by Beltrami American Legion Post #626 and the Minnesota National Guard Honors Unit from Moorhead, MN. Inurnment will be in the Fairview Cemetery, rural Beltrami.




Leo's Memorial Folder
www.stenshoelhouske.com
Previous Events
Visitation
Trinity Lutheran Church
402 Desoto Avenue
Beltrami, MN 56517
7;00 pm prayer service and time of sharing.
Service
Trinity Lutheran Church
402 Desoto Avenue
Beltrami, MN 56517
Visitation for one hour prior to the service.
Cemetery Details
Location
Fairview Cemetery
Beltrami, MN