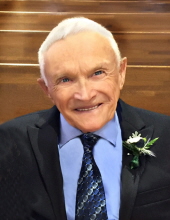 Obituary for Orland "Orlie" Hanson
Orland "Orlie" Hanson, age 95, died Friday, June 10, 2017 peacefully at his home in Crookston, MN.

Orlie was born July 1, 1921 in Fisher, Minnesota to George and Mabel (Strande) Hanson. Orlie grew up on the family farm in Fisher. He attended rural school and also Northwest School of Agriculture in Crookston, MN. During WWII Orlie served in the U.S. Army in the 4025th Signal Corp overseas station in Manila in the Philippine Islands. After the war he returned to Crookston. Orlie farmed with his Dad for a couple years. In 1950 Orlie and his brother George took over the family farm in rural Crookston. On April 15, 1953 he was united in marriage to Vivian Gleason in Crookston, MN. The couple lived and farmed in Fairfax Township, south of Crookston until retiring in 1988 at which time they moved to town. Orlie was on the Town Board in Fairfax Township for twenty years, was a member of the Sugarbeet Growers Association, American Legion member, life member of the VFW and the Eagles 873.

Family, Farming and Friends were all very near and dear to Orlie. He did what he could to help them grow over the years, taking on new roles as he aged the way only Orlie could; with a twinkle, a wink and warm hugs all around. After "retiring" from actively farming, his trips to the field were a welcome sight, delivering Dilly Bars and pops even up to his last days. He always liked a good game of cards, and shaking dice while visiting with his coffee buddies at RBJ's. Orlie really enjoyed "living the good life" fishing and spending time at their cottage on Leech Lake. Wherever he went he would make new friendships and many of those being lifelong. Both Orlie and Vivian loved their family and nothing made them happier than having them all together. You could never have too many "one more times".

Loving family members include six children: Bruce (Jody) Hanson of Crookston, Corky (Marilee) Hanson of Crookston, Dean Hanson of Rogers, MN, Diane (Steve) Rice of Ham Lake, MN, Gerilynn Hanson of West Fargo, ND, Joyce Hanson of Fargo, ND; 13 grandchildren: Karna (Scott) Rhodes of Billings, Montana, Brock Hanson, Seth (Molly) Hanson, Marley (Sam) Melbye, Wade (Jessie) Hanson, Wes (Crystal) Hanson, Wyatt Hanson, all of Crookston, Natalie Hanson of Colorado Springs, CO, Nicholas Hanson of Rogers, MN, Nate (Tricia) Hanson of Ramsey, MN, Jordan Rice and Alexis Rice of Ham Lake, MN, Lucy Hanson-Richter of Fargo, ND; 5 great-grandchildren: Jace and Drake Rhodes, Elianah, Greg and Jocelin Hanson. Also left to mourn Orlie's passing is two sister-in-laws, Evelyn Hanson of Crookston, Hazel (Donald) Weber of Moorhead, MN; two brother-in-laws, Francis Gleason of Mahnomen, MN, James (Francy) Gleason of Naytahwaush, MN; and many nieces, nephews and other relatives. He was proceeded in death by his wife of 61 years Vivian, a son, Rodney and a daughter, Mary Beth; his parents, George and Mabel; and brothers and sister-in-laws Gilman and Maxine Hanson, Howard Hanson, George and Nancy Hanson, sister and brother-in-law Mervin and Dorothy Wagner; sister-in-law and brother-in-law Lowell and Patricia Storlie.

Funeral service will be 2:00 pm on Thursday, June 15th at Trinity Lutheran Church. Visitation from 5-7 pm with a prayer service to follow on Wednesday, June 14th at Stenshoel-Houske Funeral Home. Burial at Calvary Cemetery in Crookston.




Orland's Memorial Folder
Previous Events
Visitation
Stenshoel-Houske Funeral Home and Cremation Service
615 South Minnesota Street
Crookston, MN 56716
Prayer service to follow visitation at 7:00PM.
Service
Trinity Lutheran Church
205 South Broadway
Crookston, MN 56716