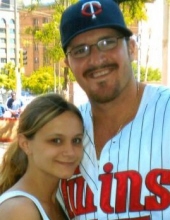 Obituary for Timothy Alan Lee
Timothy Alan Lee, 32, of Shelly, MN, died in a traffic accident on May 24, 2017, near Detroit Lakes, MN.

Tim was born at Crookston, MN on August 16, 1984, the son of Gregory and Beth (Anderson) Lee. He was baptized and confirmed in the Catholic faith, grew up in the Crookston area, and attended Crookston schools, later earning a GED. He became a proud father on July 22, 2002, following the birth of his son, Dominick Steven. For the next several years Tim worked for various businesses around the area. On May 15, 2007 he was united in marriage to Kaleigh Margaret Neil at Thief River Falls, MN. The couple bought their first home at Dahlen, ND in Nelson County, and later settled in Shelly. Tim had been employed by A & S Construction of Climax, MN to the present time. He and Kaleigh were blessed by the birth of their son, Tyler Gregory, on February 18, 2016. In 2015 the couple opened the Spillway Bar in Nielsville, and sold the business earlier this year.

Tim was an avid sports fan, whether it was the Vikings, Twins, or UND teams. He enjoyed cars, country music, and driving and traveling around the area. He had many friends, who all knew him by various nicknames, but one of his best buddies was his dog, Kirby. For Tim, time spent with Kaleigh and his sons, Tyler and Dominick, was very special. Tim will always be remembered as a loving husband, father, son, brother, uncle, and good guy.

Tim is survived by his beloved wife, Kaleigh, and son, Tyler Gregory, of Shelly, MN; his son, Dominick Steven Brouse of Crookston, MN; father and mother, Greg and Beth Lee of Fertile, MN; 2 siblings, Crystal (Mike) Church and their son, Michael Buchanan, of the Grand Rapids, MN area, and Kevin Lee and his daughter, Leah Lee, of the Grand Rapids area; grandparents, Duane and Barbara Lee of the Twin Cities, MN area; his buddy, Kirby; and many aunts, uncles, cousins, other family members, and friends. He also leaves his mother-in-law, Jennifer Dunkin of Shelly, MN; father-in-law, Jeremy Hanson of Fargo, ND; a little sister-in-law and brother-in-law, Katherine and Jimmy Dunkin of Shelly; grandparents-in-law: Jim and Marge Erickson and Jim and Nancy Cole of Moorhead, MN, and Bryan and Eldora Paradis of Alexandria, MN. He was preceded in death by his grandparents, Verne and Harriet Anderson; and uncles, Scott Lee and Robert Lanctot. May God bless Tim's memory.

A memorial service for Timothy Alan Lee will be held at 2PM, Wednesday, May 31, 2017, at the Stenshoel-Houske Funeral Home in Crookston with Deacon Dennis Bivens of the Cathedral, presiding. Visitation with the family will be for one hour prior to the service. In Tim's honor please dress casually, and if possible in Twins, Vikings, UND, or concert shirts. In lieu of flowers memorials may be given to the family.




Timothy's Memorial Folder
www.stenshoelhouske.com
Funeral Home:
Stenshoel-Houske Funeral & Cremation Service
615 South Minnesota Street
Crookston, MN
US 56716
Previous Events
Service
Stenshoel-Houske Funeral Home and Cremation Service
615 South Minnesota Street
Crookston, MN 56716
Visitation with the family for one hour prior to the funeral.