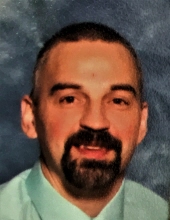 Obituary for Trevis Allen Knutson
Trevis Allen Knutson, 43, of Crookston, MN passed away Saturday September 2, 2017, and is now in his Lord and Saviors arms.
Trevis was born in Warren, MN on January 25, 1974 to Allen and Jeanette (Novak) Knutson. He grew up in Warren, where he also graduated from the Warren High School in 1993. Following high school Trevis continued his education at Northland Technical & Community college in Thief River Falls, MN. There he received his Associate's degree in Criminal Justice. He would then continue to further his education at the University of Minnesota Crookston, receiving his Bachelor's degree in Applied Science. While attending Northland College in Thief River Falls, Trevis met the love of his life, Amy. Together as a couple they would move to Moorhead, MN, and then to East Grand Forks, MN, where the two would be united in marriage on June 17, 2000. From there Trevis and Amy would move to Crookston, MN, where they would settle and build their home. Trevis and Amy were blessed with two beautiful children, their daughter Madelyn, and son Luke. There was nothing Trevis loved more than being able to spend time with his family.
Trevis worked for the Warren-Alvarado-Oslo school system where he was a behavioral specialist and was adored by all the children that he was able to help. He had a strong relationship with his Lord & Savior, Jesus Christ, and was a member of the Evangelical Covenant Church in Crookston, MN. Trevis enjoyed reading his bible and listening to Christian music. He was also very passionate about physical fitness, where he would keep to a strict diet and weight lifting routine. He was an avid fan of the Miami Dolphins football team and had a love for rock music from the 1980's, so much so, that he could name any song that was played for him. Trevis could make almost anyone laugh. His sense of humor was one of a kind. Trevis was all of the nieces and nephews favorite and they looked up to him and forever will. All of these passions made Trevis the kind, caring, fun, and loving man that he was, but most importantly, husband and father.
Trevis is survived by his beloved wife, Amy; children, Madelyn, and Luke; mother, Jeanette; brothers, Brian and Scott (Tammy) Knutson; sisters Brenda Donarski, Sherri Johnson, and Tina Knutson. Also surviving Trevis are his mother and father in-law Darrell and Cindy Payment, Amy's siblings as follows. Danny and Jami Payment, Nick and Annie Waldal, and Josh and Amanda Shuck; along with many nieces and nephews, which include, Chris, Kayla, Ashley, Savanna, Channing, Thea, Derrek, Jeremiah, Andrea, Lincoln, Brooklyn, Xavier, Aubree, Eli, and Wilder. Trevis is preceded in death by his father Allen; and nephew David.
A celebration of his life will be held to honor Trevis on Thursday, September 7, 2017, at 11:00AM, at Trinity Lutheran Church in Crookston, MN with Pastor Timothy Bhajjan presiding. Visitation with the family will be held one hour prior to services with burial immediately following services at Oakdale cemetery in Crookston, MN.




Trevis's Memorial Folder
Previous Events
Service
Trinity Lutheran Church
205 South Broadway
Crookston, MN 56716
Visitation with family one hour prior to services.
cemetery
Oakdale Cemetery
Crookston, MN 56716